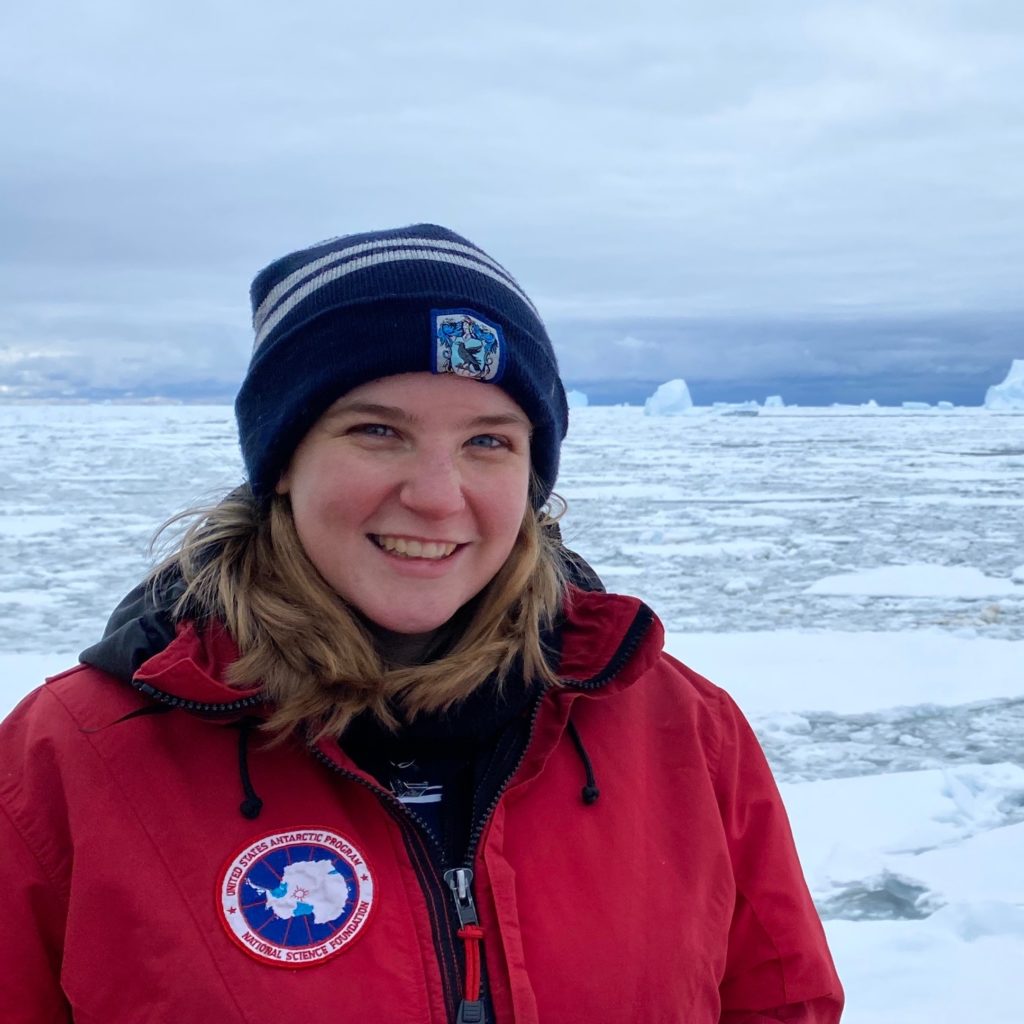 Lily Dove, PhD (tbc)

Discipline: Oceanography
Age: 26
Nationality: USA
Organisation: California Institute of Technology (USA)

Regional focus: Antarctic
Social media: Twitter and Website
What's the work that you do?
I study the efficiency with which carbon can be transferred from the atmosphere to the deep ocean, and how ocean dynamics impact this exchange. I approach these questions by using in situ observations from autonomous vehicles and data from satellites to study interactions between ocean physics and biogeochemistry. My research focuses on the Southern Ocean, which is a driver in the global ocean circulation and climate cycle.
What keeps you going?
There are two aspects of my job that I particularly enjoy: Going to sea to collect data and doing outreach talks with local middle schools. My happy place is being out on the ocean (preferentially the Southern Ocean!) putting scientific instruments in the water, making measurements, and seeing the amazing natural landscape, even though it can get wavy and stormy at times! In addition, I love sharing pictures of my work and doing classroom demonstrations with local middle school students. Their excitement fuels me and keeps me energized about my research.
What's your message to the world?
My most defining moment of being a polar researcher was while I was aboard the RVIB Nathaniel B. Palmer in the Amundsen Sea in March 2020. As the rest of the world began social distancing, the 60 people aboard the ship continued working together to progress the science. It was emotionally taxing and physically draining, even more than traditional field work, but I learned about how to support myself and others in trying times. I now try to carry these lessons into my day-to-day life off board the ship, too.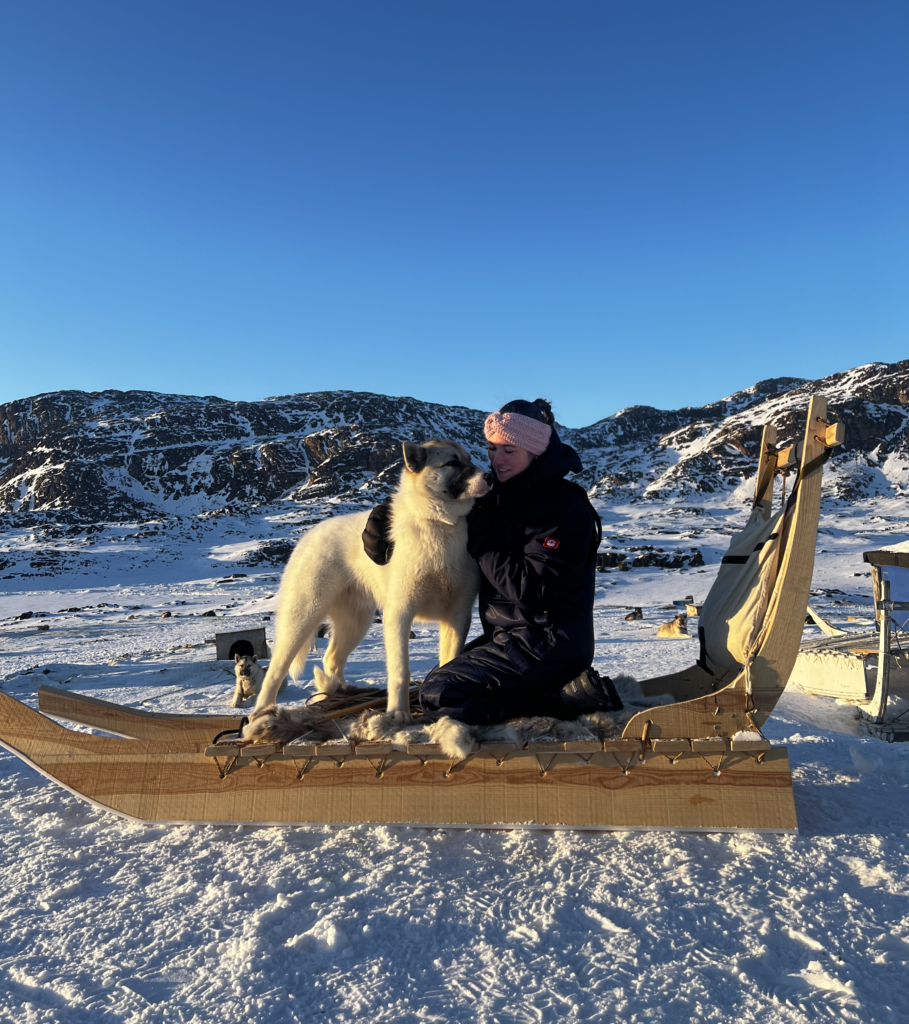 Emma Vitale, PhD
Discipline: Archaeology
Age: 29
Nationality: Denmark and Italy
Organisation: Globe Institute (University of Copenhagen); University of Greenland

Regional focus: Arctic
Social media: ResearchGate and Instagram
What's the work that you do?
I am a Ph.d. fellow with Globe Institute at the University of Copenhagen and the University of Greenland. My research focuses on the Greenlandic dog sledding culture. My work investigates how humans exploited the domesticated dog in Greenland in prehistory, how the relationship is visible through archaeological and ethnographic evidence, and if the material culture can shed light on the origin of the Arctic dog sled complex. My research also involves a historical study of the Greenland dog sled and sled dog equipment, with identification and characterization of regional cultural traditions and variations.
What keeps you going?
My curiosity keeps me going, because it is currently an overlooked field in the world of archeology, and there is still so much to discover about dog sledding. I have always been fascinated by the historical collaboration between human and dogs, and dog sledding has been essential for humans to live, travel and settle in the Arctic climate. I feel very grateful for having the opportunity to study such an important part of the Greenlandic cultural history, and meet so many incredible people through my research.
What's your message to the world?
Greenland holds the largest remaining sled dog population in the Arctic and a globally unique traditional culture. But both the sled dog and the culture that goes with it is threatened by extinction. I hope my work will contribute to increase the focus on research and preservation of the dog sled culture.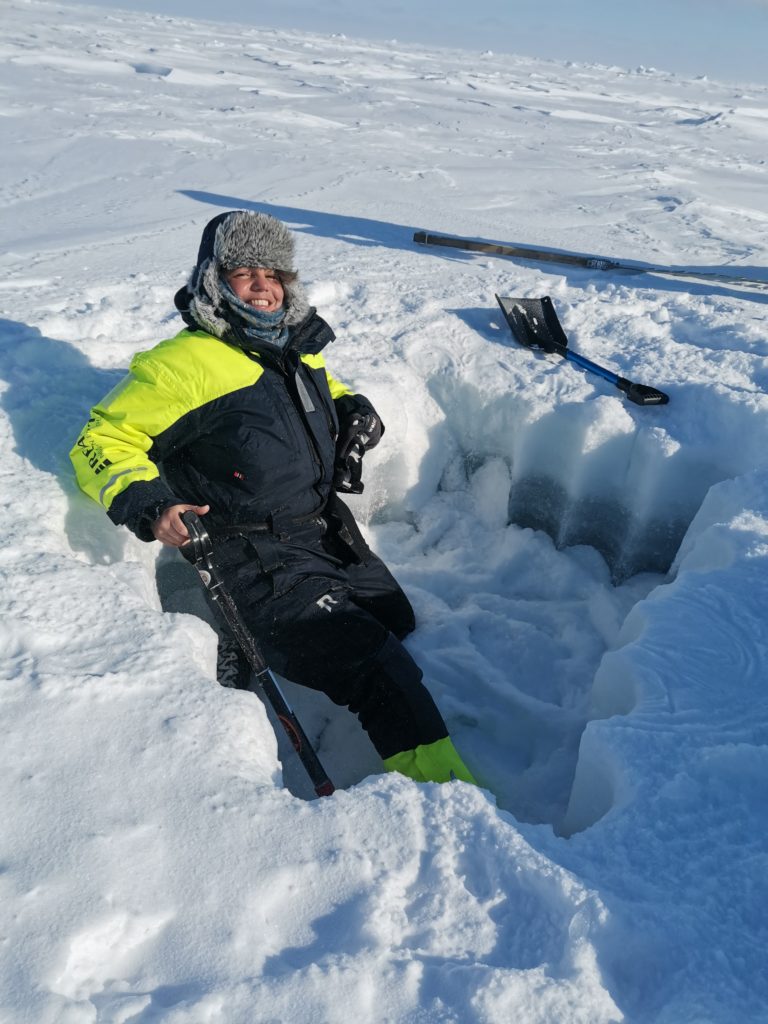 Natalie Summers, MSc

Discipline: Marine biology, polar biology
Age: 35
Nationality: Mauritius and UK
Organisation: Norwegian University of Science and Technology (NTNU); Nansen Legacy, Centre for Autonomous Marine Operations and Systems (AMOS)

Regional focus: Arctic
Social media: Instagram
What's the work that you do?
I am using mini remotely operated vehicles (ROV) with hyperspectral cameras to map algae living in the Arctic. Each object of interest has a optical fingerprint that I can use to identify types of algaes. This way, I am able to map kelp forests and microalgae growing on the underside of the ice. I combine this with measuring photosynthetic rates to look at the health state of the algaes. Marine algae are the base of the food web. As they photosynthesis, they use up carbon dioxyde and release oxygen. The overall goal is to better understand algal dynamics in space and time in the Arctic.
What keeps you going?
I enjoy exploration and pushing the boundaries of science. Life in the Arctic has adapted to extreme cold as well as extreme light cycles (3 months of darkness and 3 months of sun). These extreme conditions have also made it challenging for researchers. Because of this I get to be part of interdisciplinary teams of researchers allowing us to develop new methods to study the Arctic. I work with marine technologists that make the robots and sensors I use to gather data, while I get to analyse and interpret the biological results.
What's your message to the world?
Our world is fascinating and changing fast. The key is to stay curious, keep an open mind and work with as many people from different backgrounds as possible.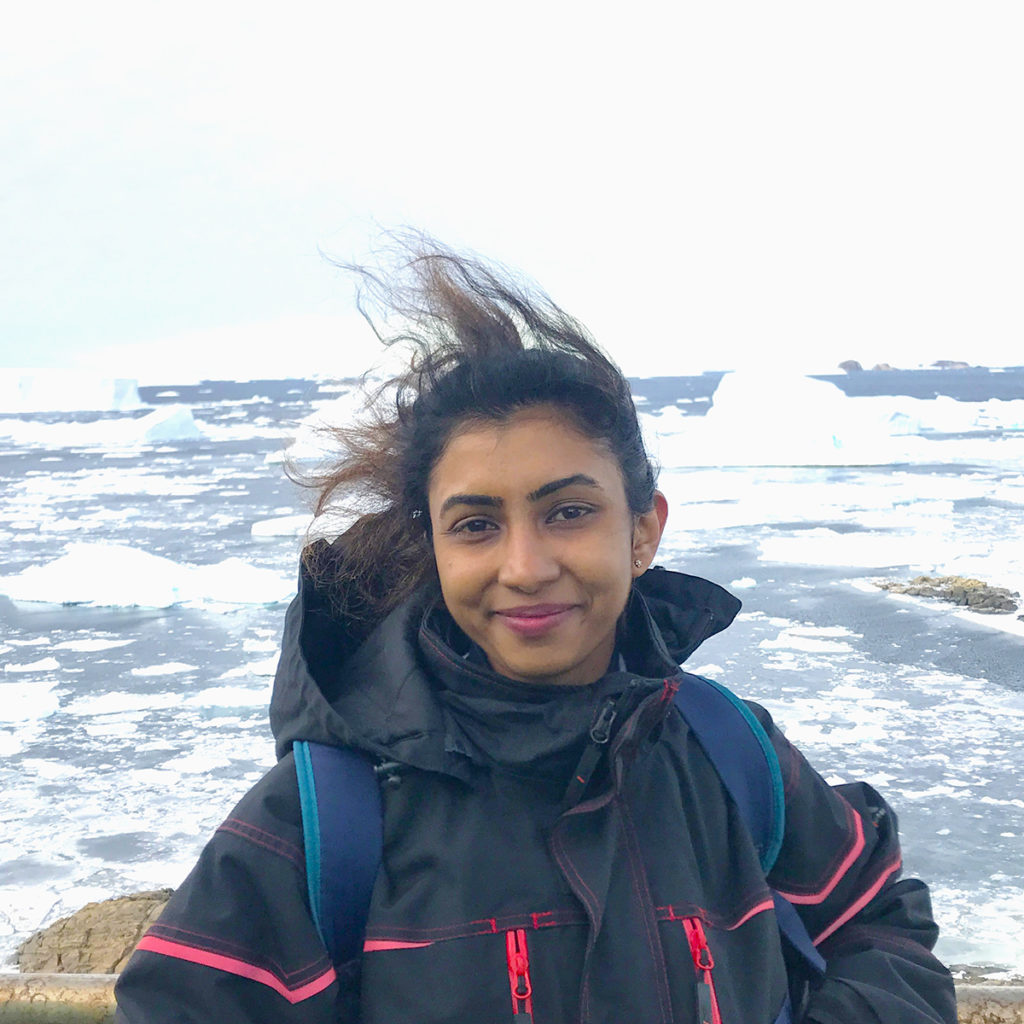 Cheryl Noronha-D'Mello, PhD

Discipline: Antarctic paleoclimate and paleolimnology
Age: 35
Nationality: India
Organisation: National Centre for Polar and Ocean Research (India)

Regional focus: Antarctic
Social media: Instagram and Twitter
What's the work that you do?
I'm a Project Scientist who specialises in Antarctic paleoclimate and paleolimnology. My research centres around reconstructing the past climate in Antarctica using sediment cores retrieved from the lakes of ice-free oases of the Larsemann Hills and Schirmacher Oasis, East Antarctica. We want to understand environmental responses of the terrestrial and aquatic systems to past climate change over glacial and interglacial timescales.
What keeps you going?
Since hearing stories of various exploration expeditions, the idea of working in Antarctica has intrigued me. Studying past climate in Antarctica is literally time-traveling to the past to find out and interpret some knowledge that is unknown or little known. It's like being a climate detective trying to decipher the secrets of Antarctica's past, and you get to tell that story to the world through your research. Working in such challenging conditions on the lake on a floating platform to retrieve sediment cores in order to tell that story makes the job adventurous and exciting.
What's your message to the world?
As I study past as well as modern climate change, I want to convey that climate change is indeed real and amplified in the polar regions. Though it has happened in the past due to natural variability, the current climate change scenario is caused by humankind and is irreversible. But, there is still scope to heal the planet by changing multiple magnifying factors, including carbon emissions and lifestyle. We need to do our part in order to preserve the beautiful and pristine region of Antarctica and all the life that it holds.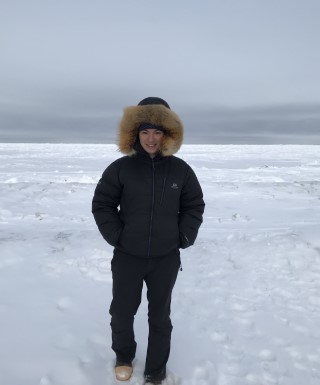 Alice Bradley, PhD

Discipline: Sea ice and Arctic observation
Age: 33
Nationality: USA
Organisation: Williams College (USA)
Regional focus: Arctic
Social media: Website
What's the work that you do?
In classic Arctic fashion, I wear a lot of hats. I am a professor at Williams College, where I teach classes related to climate science, environmental observation, and the cryosphere. My research is in observing Arctic sea ice and how we can combine observations approaches (different satellite-based sensors, shore- and water-based in situ measurements, and community observations). I also work in coordinating observations through the Arctic Observing Summit and SAON. How can we design an Arctic Observing System that makes better use of the resources we have and be more responsive to the needs of Arctic communities?
What keeps you going?
I am deeply interested in the question of how we measure things, and that is what brought me in to polar science. From building instruments and developing remote sensing approaches to coordinating observations at international and cross-disciplinary scales, what we observe depends on how we go about observing it. Being able to indulge this curiosity and make observations and observing systems that can help communities is what motivates my work.
What's your message to the world?
Doing things well takes time. Be patient, start building relationships and processes before you need them, and recognize that sometimes you'll need to take two steps back in order to move forward.