Narissa Bax, PhD
Discipline: Seafloor ecology, conservation management

Nationality: New Zealand
Organisation: South Atlantic Environmental Research Institute (SAERI); Institute for Marine and Antarctic Studies (Australia)

Regional focus: Antarctic
Social media: Twitter
What's the work that you do?
My work supports the coordination and development of marine and coastal environmental management. I also maintain a research agenda focused on seafloor blue carbon and marine exploration. Including in the Falkland Islands mesophotic zone (from 30 – 150 meters) – where we recorded the presence of stylasterid (lace) coral gardens and rhodolith beds (coralline algae nodules) below 40 m during exploratory surveys in 2021. A focus on sampling in unexplored mesophotic habitats informs on threats and vulnerability across a vast area (c. 50,000 km² of the Falklands Conservation Zone) that encompasses multiple species exposed to various environmental gradients.
What keeps you going?
I focus my time in remote, comparatively intact and isolated environments of high biodiversity. Due to the rare frontier location of the Falkland Islands at the intersection of the South Atlantic and Sub-Antarctic,  my collaborative capacity encompasses a vast geographic area of globally unique Vulnerable Marine Ecosystems, advancing biodiversity protection and nature-based solutions to climate change globally. This focus had led to my inclusion in a number of UN decade
What's your message to the world?
There is a pervasive idea that, because places like the sub-Antarctic are isolated 'and comparatively pristine' (especially out of sight habitats like the deep sub-Antarctic seafloor), they are unimpacted by humans. Sadly, this is not the case given the typically slow growth rates, endemism and economic interest in these ecosystems and the compounding consequences of climate change. I hope that society comes to collectively realise this, whilst we still have wonderful biodiverse ecosystems such as coral gardens on the seafloor. We need to preserve these safe havens for future generations. The deep sea stores and sequesters carbon – the planet as we know it will not persist without a functioning ocean ecosystem.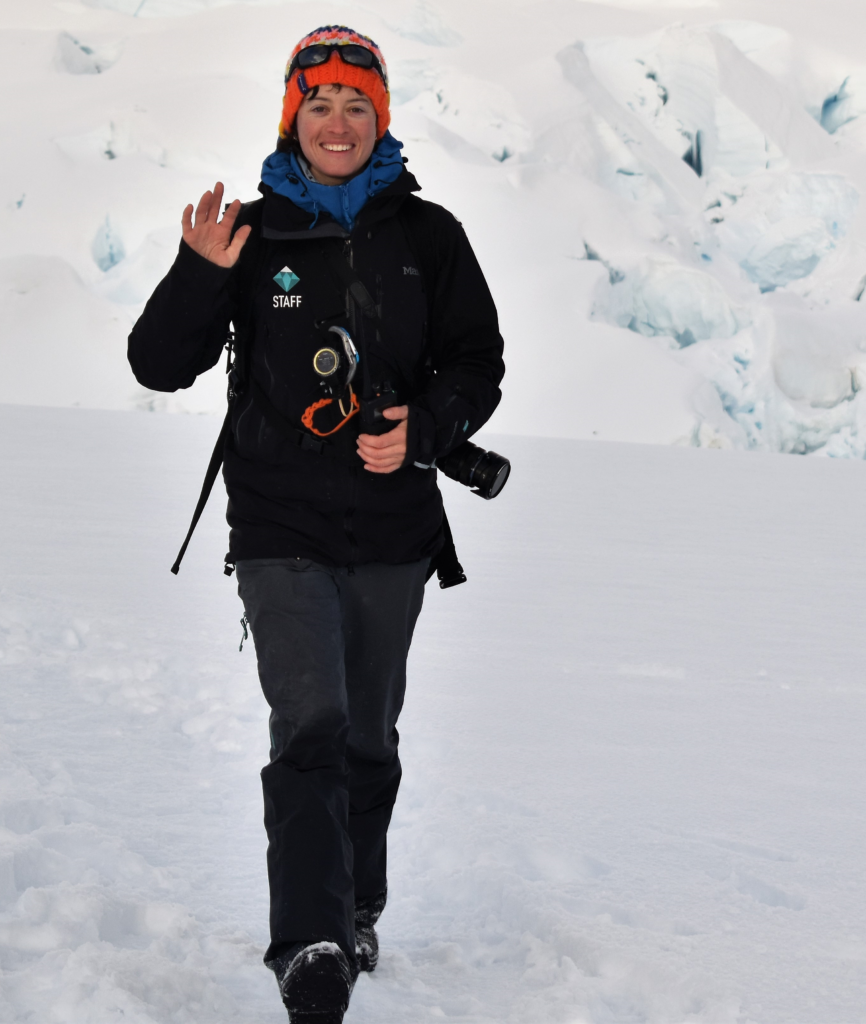 Nina Gallo
Discipline: Science communication & polar tourism

Nationality: Australia
Organisation: Antarctic and Southern Ocean Coalition (ASOC)

Regional focus: Antarctic
Social media: Website and Twitter
What's the work that you do?
I'm a guide, Zodiac driver and shipboard historian. When I'm not out in the field, I work as a polar science communicator, writer and strategic communications consultant. I also spend a lot of time reading around the environmental humanities, climate science and systems thinking, and am inspired by exploring new ways to solve wicked problems and make decisions amidst uncertainty.
What keeps you going?
There's something magnetic about the polar regions. I've always been drawn to the contradictions of these stark, spare landscapes that are somehow also brimming with life. When we step away from the hustle and expectations of daily life in the lower latitudes we find the space to see and think in new ways. This time to reflect on our planet and our personal truths is, I think, incredibly powerful. Being part of that experience for others is a privilege. One of the best things about my work is the people. There's this global community of amazing humans from all kinds of backgrounds, each with unique motivations and ways of thinking, and shared goals of planetary custodianship and conservation. I also love spending quiet time with seals, whales and seabirds, the ocean and the ice.
What's your message to the world?
The sensory relief of the polar ice, ocean and sky can help us find the stillness in an otherwise chaotic, loud world, and maybe help us see things more clearly. Now more than ever, we must try to understand ourselves collectively within our nested historical and cultural contexts. We humans are marvellous little organisms: wondrous, creative, driven by hope, love and fear. We're also just another very new addition to a complex ecosystem on an ever-changing planet that could shrug us off at any moment. I believe that it is from this place of humbled polarity, where we can acknowledge our power and insignificance, our capacity for creation and destruction together with compassion, that we can move towards a manageable future.
Heidi Sevestre, PhD
Discipline: Glaciology

Age: 34
Nationality: French
Organisation: Arctic Monitoring and Assessment Programme, AMAP (Norway)
Regional focus:  Arctic
Social media: Facebook
What's the work that you do?
I have recently joined the Arctic Monitoring and Assessment Programme, one of the Working Groups to the Arctic Council. AMAP is defined as a "boundary organisation", between academia and the member countries and organizations to the Arctic Council. We help coordinate research on topics such as climate change, human health, pollutants, ecosystems etc. On top of this "facilitator" work, I am deeply passionate about science communication and aim to make Arctic science more accessible and understandable.
What keeps you going?
I do what I do because the Arctic is the epicenter for climate change, and is today warming three times faster that the rest of the world. The fact that the Arctic as we know it is disappearing is not only dramatically impacting local populations but also populations way beyond the Arctic circle. Our future depends upon the Arctic and it is crucial that we keep studying this fascinating region and tell the world about its importance.
What's your message to the world?
If we lose the Arctic, we lose the world.